I have released four games thus far, working on the fifth. I do count Wildsilver Demo and Wildsilver as separate games, since the Wildsilver Demo is 'kind of its own thing' and has, characters and game mechanics aside, little to do with the story and areas of the full game.
These are the games I have released:
Game Master

My first game released in 2014. Considering I have been tinkering with RPG Makers since the 2000 instalment, my first release took me way too long. I do, however, think that it turned out pretty nice for that exactly that reason.
Game Master Plus

An 'expanded remake' of Game Master. I started working on it in 2015. Initially, I only wanted to release a version 1.1 of Game Master with some new elements. When RPG Maker MV was announced, however, I decided to vastly extend the scope of this project. Game Master Plus was basically done in February 2016 (development went really, really smoothly up to that point), but it took years(!) to get a reliable scripter on board for the custom visuals and mechanics. Game Master Plus was finally released in January 2019.
LV99: Final Fortress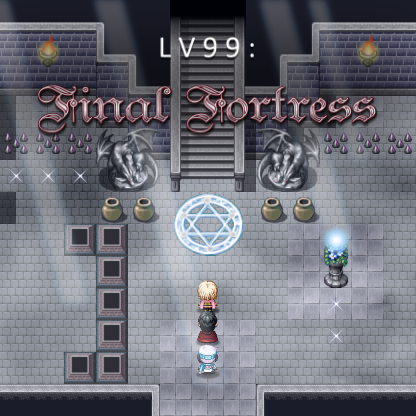 An experimental game I released after the complex and time-consuming project that was Game Master Plus. It was supposed to be a simple project with one or two hours of playtime, but it ended up taking 18 months to develop LV99: Final Fortress (which now actually takes four to five hours to complete, I'd say). Here's a blog article with some details. It came out in 2020.
Wildsilver Zero

An extensive prototype I put together to showcase the battle mechanics and some other gameplay elements that are planned for my next epic game, Wildsilver. I have written a blog article explaining the reasoning behind this demo and its scope. Wildsilver Zero was released in 2021.
Wildsilver

This is it, the magnum opus of Great Potion Games. Or at least I hope it will be, with your help: Wildsilver was released in early-access in September 2023, and I'm looking forward to any feedback!